How you feel leading up to your first date with someone is typically a mix of nervousness and excitement, which is expected and completely normal. First dates are all about finding out what kind of person is sitting opposite you, whether you have that instant connection and if, by the end of it, you'd like to meet up for a second and third date.
A lot goes into deciding what to do for a first date. Some people choose to keep things simple by going on a walk in a nearby park with a coffee or catching a drink at a fancy bar, whereas others may choose the romantic route early on and take their date to an intimate restaurant.
Keep it Simple with a Walk
Without a doubt one of the most accessible, friendly and relaxed first date ideas is just going on a walk. Taking a stroll through a botanical garden, beach, along a promenade or even a local park allows you to communicate clearly and openly with your date. Walking is also one of the best mood boosters and helps you loosen up, so combining this with the excitement of a first date provides you with a good platform for a memorable introduction.
Where you choose to walk may also allow you to learn more about the type of person your date is by how they interact with the environment. For example, if they stop to pet a dog, if they look into a cute cafe or they stop to observe art or nature, this might reveal more of their character.
Visit a Museum or Gallery
First date ideas that allow you to talk to one other while observing your surroundings will never go out of fashion. Even if you're not particularly interested in art or history, the act of exploring a place of culture and the past can spark conversation. Listening to their comments and opinions on certain pieces may offer an insight into their personality, tastes and preferences.
Exploring an art gallery may also encourage both of you to explore deeper conversation topics as opposed to small talk. Commenting and engaging with art or historical artefacts helps to promote a meaningful connection with your date, ideal for opening up more conversation.
Attend an Art Class
This is perfect for both a first and second date idea for a few reasons. Art classes, like pottery and terrarium classes, provide a fantastic platform for new dates because they encourage partners to engage in physical interaction and build trust.
While most classes focus on creating something individually, you may find there's a natural inclination to help your partner, thus engaging in physical touch and interaction that deepens the experience subtly and naturally. Engaging in an activity like this also alleviates the risk of potential lulls in conversation as you have a specific activity to focus on.
Neither you nor your date needs to be a skilled artist or horticulturist. The worse you are, the more fun you may have!
Explore a New Part of Town
If you're meeting locally and there's a part of town, a village or somewhere quaint you've always wanted to explore but haven't, this may be the perfect time to do so. Take a walk down cobbled streets, explore quaint market stalls and shops or get lost down winding lanes. Exploring any new area is always an enjoyable experience and provides a great base for conversation, as you will constantly find new things to talk about as you explore.
Shop at a Farmer's Market and Have a Picnic
Another date idea that sparks conversation and intrigue are markets. Exploring a farmer's market is not only an exciting experience but you can learn a lot about your date based on the foods and drink they choose from the vendors. It may also offer an insight into how they approach new people and engage in conversation, are they naturally confident or are they a little shy? Paying attention to their traits will allow you to understand them a little better in a subtle way.
Once you have finished exploring the market and finalising your picnic basket, head to a comfortable picnic spot, open some wine and enjoy trying out the foods you've bought.
Keep it Simple and Grab a Coffee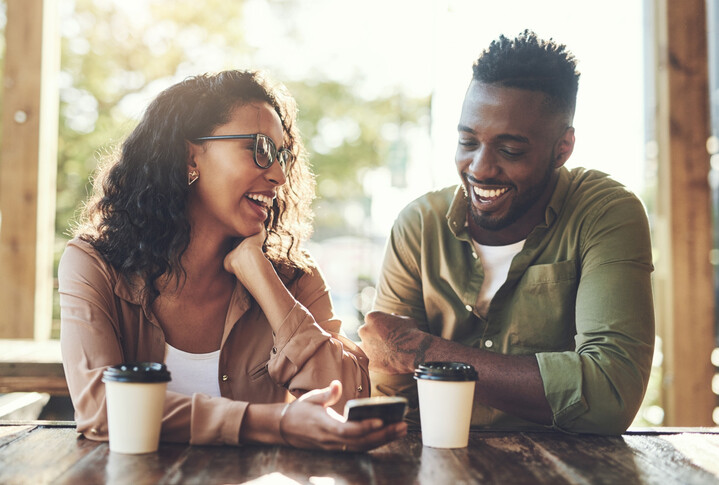 For those who want to keep things simple and laid back, arranging to meet at your favourite cafe or coffee shop will never go out of style. Catching a quick coffee also works well for people who don't necessarily have time for an evening date or would rather enjoy a quick coffee to see whether or not there's an immediate connection.
Some questions you may want to ask could include:
Where is the most exciting place you have ever been?
What are some of your pet peeves?
Is there anything you're particularly proud of in your life?
What is your favourite memory?
Remember that First Dates are Meant to Be Enjoyable
There's no need to put pressure on your first date by trying to find the perfect place to take someone.
It's important to not overthink your first date location. Your date hasn't chosen you based on the location or activity, they've decided to meet up with you because of your personality. As long as you are choosing a location or activity where your personality can shine (and you're able to hear each other speak!), these are the key to a successful first date.
---
Arranging Bespoke Introductions with Exceptional People
While forging that first connection isn't solely down to the location, your choice does play a role in setting the tone. Meeting somewhere you can talk openly and promote insightful and memorable conversation increases the potential for a second and third date.
If you're looking for that special man or woman to experience these first date ideas with, our team of award-winning matchmakers can help. We specialise in bespoke introductions and tailored matchmaking based on psychological profiling and personalised introductions with singles who share your core relationship values and long-term goals.
To speak to one of our matchmakers and learn more about our exclusive matchmaking service, simply email or call us. We understand this may be your first time speaking to a professional matchmaker, so we will explain how our process works and answer any questions you may have.
Interested in finding out how we work?