Coffee shops are a great opportunity to have a chat and really get to know someone, which makes it a fabulous option for a first date or a 10th
date. It's often relaxed, which creates a comfortable and informal atmosphere, and sets the expectations at a nice level. Additionally, if the date is going well, there are lots of ways to prolong the date further whether that's going to a walk, lunch or to a gallery!
If you're looking for a somewhere to go in Chelsea, whether you're seeking a cozy coffee shop or an airy café with plenty of space to spread out, this list has something for everyone! From pavement-side hangouts along the illustrious King's Road to tucked-away tea stores in Fulham, here are 7 of our personal favourite cafes and coffee shops for singles on the hunt for love (or just excellent espresso!) in West London.
The Locals
Looking for the perfect spot for a first date? Look no further than The Locals, a snug and warm cafe that's as inviting as it is intimate. With a menu filled with specialty lattes, cappuccinos, and teas, you'll be able to sip on something delicious while getting to know your date in a relaxed and comfortable environment. And if you're feeling peckish, they've got you covered too with lots of food options. With its welcoming ambiance and delicious offerings, The Locals is the ideal spot for a romantic rendezvous.
Caravan Coffee Roasters at Vardo
If you're looking for a spot to grab a cup of coffee, Caravan Coffee Roasters at Vardo is worth checking out. Located in the heart of Duke of York Square, this coffee shop is the perfect place to enjoy a warm latte, cappuccino, or flat white on a chilly afternoon. And if you're looking to impress your date, this spot is a great choice. With its charming ambiance and array of delicious coffee options, you're sure to impress your special someone and have a great time. So why not head over to Caravan Coffee Roasters at Vardo and treat yourself (and your date!) to a tasty caffeinated beverage?
Amar Cafe
Nestled in the heart of the city, Amar Café is a cozy yet vibrant cafe which has a warm ambiance that will make you want to stay for hours. The aroma of freshly brewed coffee envelopes you as soon as you walk in, and the menu offers a selection of delicious beverages and snacks. The decor is eclectic yet inviting, making it the perfect spot to escape from the bustling city outside.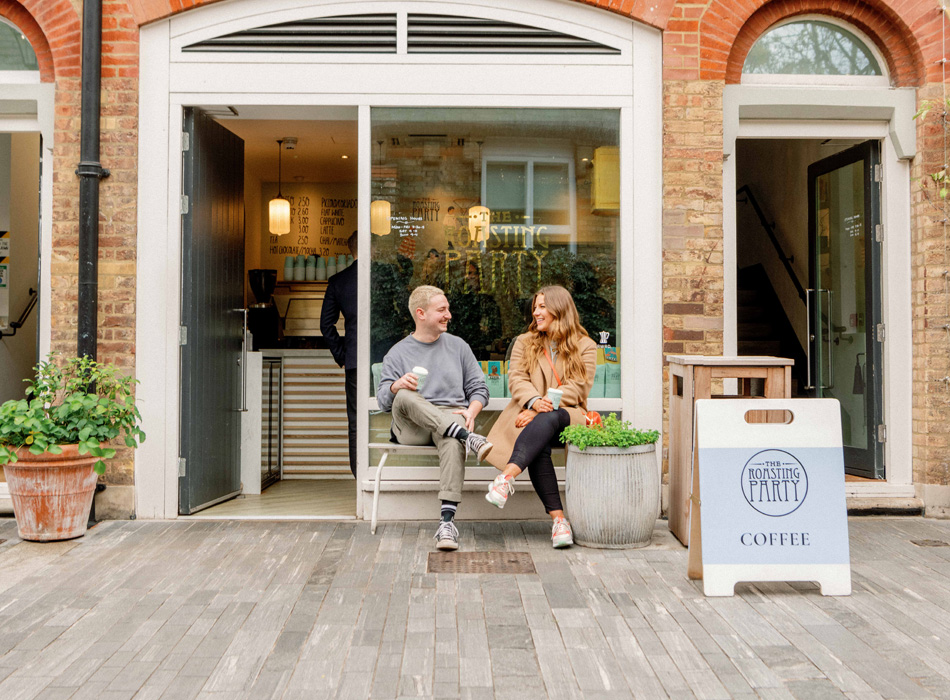 Party at Pavillion
If the sun's shining and you're wandering around the streets of Chelsea, there's not a better coffee shop to stop at than Party at Pavillion. Whilst the inside of the café is quite small, they have lots of outdoor seating which is a great way to immerse yourself in the Chelsea neighbourhood whilst enjoying speciality coffee and baked goods.
Black Penny
Looking for a coffee spot to impress your date? Look no further than Black Penny in the heart of Chelsea. This hidden gem is a must-visit for any coffee aficionado. Trust us, your taste buds won't be disappointed. On their menu, you'll find single-origin coffees, lattes, and cappuccinos made with the highest quality beans. The atmosphere is perfect for a romantic get-together.
All in all, Chelsea offers a wide variety of unique and flavourful coffee date spots. Whether you're a fan of an intimate independent cafe or just looking for an across-the-board caffeine fix, the area has something for everyone to enjoy. From Party at Pavillion with its outdoor to Amar – arguably the best coffee in London – there are truly endless options when it comes to finding your favourite spot.
Maclynn is a boutique, multi-award-winning introductions agency with offices in London, New York, New Jersey, and California. Our dating experts are world-renowned for bringing together highly compatible singles within our vast network of attractive, intelligent professionals, as well as help you plan the very best dates – whether it's dinner in Soho or drinks in Shoreditch. Get in touch today and prepare for genuinely meaningful dating—just like you deserve.