Revealed: The Most Romantic Places in London
It's not difficult to find something romantic to do in London, considering the city is bubbling with charming date locations. However, despite London's long list of romantic places, there are many that hide away in plain sight. Being an international matchmaking agency, we're always looking for new and exciting places for our dates to explore and enjoy.
I'm going to be looking into some of the lesser-known romantic hideaways. From secret gardens to hidden places you never know existed, I have selected some of my favourite places to relax and unwind with your date.
1. Dine in Luxury at Clos Maggiore
For those looking to keep their feet on the ground, Clos Maggiore offers one of the most romantic places to eat in London, possibly even the UK. Situated in the heart of Covent Garden, Clos Maggiore manages to steal you away from London's hustle and bustle with their quaint, spring-inspired setting. Catering for both summer and winter outdoor dining thanks to its open fire and retractable roof, Clos Maggiore is the perfect romantic dining experience for any time of the year.
Clos Maggiore also plays host to several proposals and is without a doubt one of the most romantic places in London to propose. So, don't be surprised if you find yourself celebrating an engagement!
I have mentioned all the top locations to take a date in London in my previous article.
2. Explore the Viewing Level at Tate Modern
Art soothes the soul and London has the luxury of accommodating some exceptional exhibitions. However, aside from ever-changing exhibitions from the likes of Louise Bourgeois, Sarah Lucas and Ai Weiwei, Tate Modern harbours another breathtaking element – the viewing level.
The 360ᵒ views across central London coupled with stunning exhibitions makes the Tate Modern one of my favourite romantic places in London.
3. Little Venice
Quietly sitting in London's waterways, Little Venice offers a romantic space for couples and dates to escape in the city. It's rare to find areas that offer such unique escapism in London's busy cityscape, but Little Venice wisps you away as soon as you set foot on one of their boats.
You're more than welcome to bring your own food and drink for the trip, and I'd recommend exploring some of the cute shops and cafes along the route. This is a truly beautiful snippet of London and offers a completely different view of London. Definitely one of the most romantic places in London for couples.
4. The Whispering Gallery at St Paul's Cathedral
Marvel at the stunning architecture surrounding St Paul's Cathedral's Whispering Gallery. The way the Whispering Gallery is designed is remarkable, its curved wall allows you to hear the faint whispers and murmurs of people on the other side of the room. The Whispering Gallery harbours something special, a secret romantic place in London where faint whispers of unrequited love may be heard.
But choose your words wisely, because you never know who else could be listening!
5. Wilton's Music Hall
Wilton's Music Hall in Whitechapel is not your traditional romantic area in London, considering its history. Wilton's remains one of the oldest grand music halls in the world, surviving the Blitz and constant threats of demolition. You can't help being swept up in the history of the hall as soon as you step in. Its original cast iron pillars, balcony and decor still stand. It's a truly breathtaking building and a visit well worth taking for those who appreciate history and architecture.
6. Columbia Road Flower Market
One of the most traditional romantic places in London has to be Columbia Road's Flower Market. Even if you're not interested in buying flowers, the atmosphere and people will certainly romanticise the occasion. It's a cute and quaint market, and arguably one of the more subtle romantic places around London.
If you are interested in what the Flower Market has to offer, you won't be disappointed. Everything from traditional bouquets to bonsai trees and fruit trees, I would be very surprised if you came from Columbia Road without some shrubbery.
7. The Pergola and Hill Garden
Politely sitting in Hampstead Heath lies a stunning Pergola and Hill Garden. Built by Lord Leverhulme to host his infamously eclectic Edwardian soirees, it now serves as a tranquil garden escape.
If you're looking for an exploratory date, this should be high on your list. Being situated on a raised walkway allows you and your date scenic views over the West Heath.
I would advise visiting the Pergola and Hill Garden around Springtime, as this is when the pergolas will be entangled in endless vines and unique shrubbery.
8. The Royal Observatory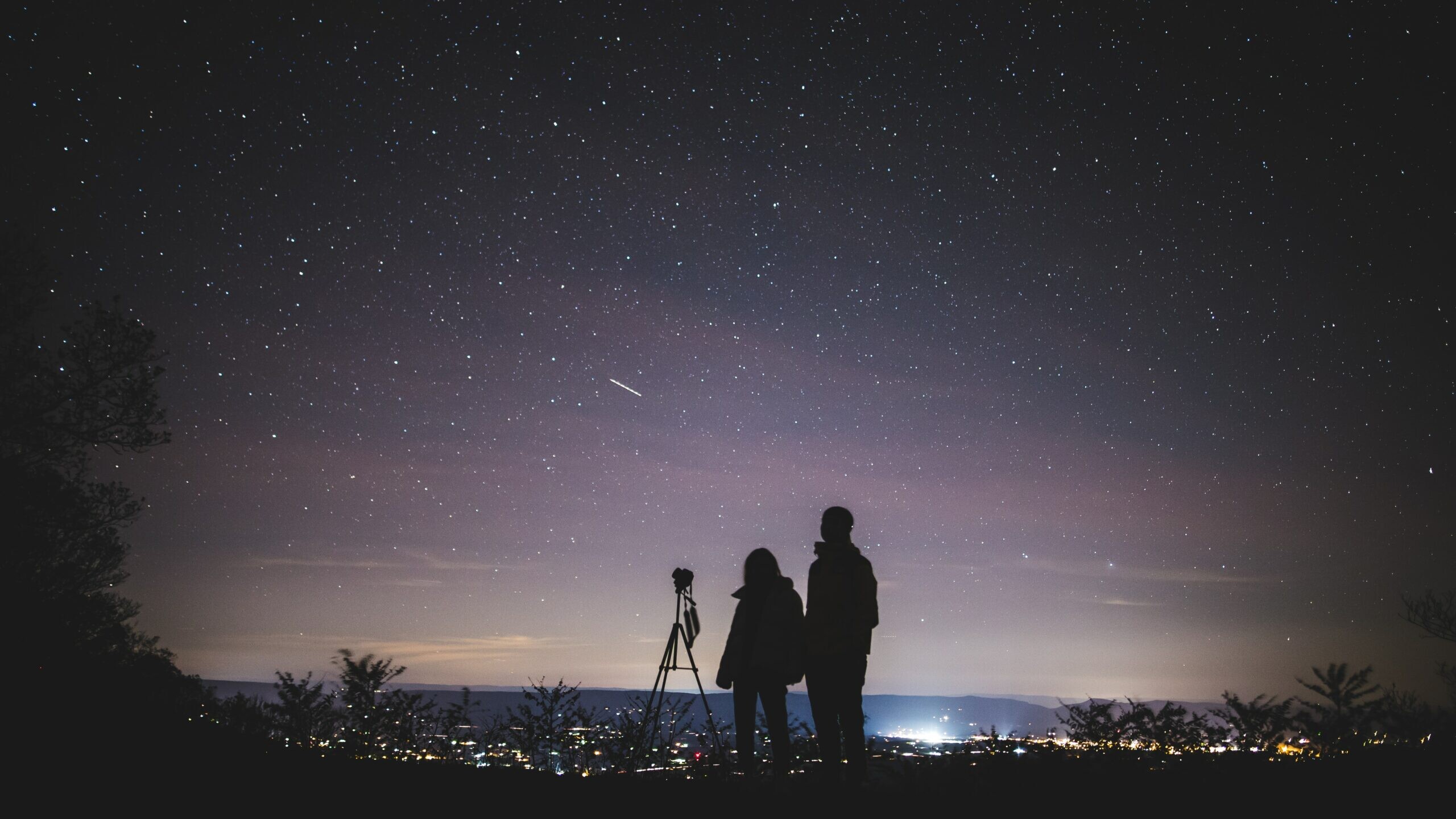 When writing about romantic places in London, it would be a sin to leave the Royal Observatory in Greenwich off the list. It's difficult to top star-gazing when it comes to romantic ideas. You can also watch and marvel at their planetarium shows if you're looking to learn more about the universe we live in.
The Meridian Line is also a popular spot for photos, so be sure to take a snapshot of you and your date standing over the space where east meets west. Certainly one of the most romantic places in London at night.
9. Dine in a High Rise Setting
Dining in a sky rise setting overlooking London's stunning cityscape ranks highly. For foodies and the lovers of skyline dining, this is one of the most romantic places in London for date nights.
While there are a number of romantic places to wine and dine in London, I have hand-selected my favourite three:
London plays host to a number of exceptional skyline restaurants, a few of which are covered in my Date Ideas article.
10. Barbican Conservatory
Another luxurious garden to add to your list. The Barbican Conservatory in the heart of London hides itself exceptionally well. This is a small and unique space, perfect for a first date thanks to its charming atmosphere and exquisite scenery. Its unashamedly overgrown and unkempt design is an honest reflection of traditional English gardenscapes.
There's also a very cute terrapin home, Koi carp pond and a cactus house to explore. If you're looking for a romantic place to take a date for a few hours, Barbican Conservatory must be at the top of your list.
11. Word on the Water
Traditional romanticism lives and breathes in Word on Water. This 1920s Dutch bar has been perfectly transformed into a floating bookshop that plays host to a woodburning stove and live jazz bands.
Word on Water is perfect for dates who share an interest in literature and local artists. Even if you don't have an interest in literature, the warm and inviting atmosphere offered in World on Water will have no trouble keeping you afloat.
12. Book a Room at Shangri La
Another skyrise delight, Shangri La at The Shard, is perfectly suited for those looking to end or spend the night in sky-high luxury. Standing at 50 floors above the busy London walkways, Shangri La offers exceptional views across central London.
Relaxing and unwinding in Europe's tallest building is certainly one of the most romantic places to stay in London.
13. Hyde Park
Arguably the most traditional romantic place in London, Hyde Park offers a number of simple romantic activities. I would personally recommend horse riding around the park. It's active, fun and a fantastic way to explore the beauty and splendor of Hyde Park.
14. Evening Cruise Across the Thames
London by night is always a stunning sight, couple that with an evening cruise along the Thames and you've got yourself a traditionally romantic setting. There are a few cruises you can choose, most of which come with fine wining and dining and all come with stunning views across the Thames and some of London's famous landmarks.
Most trips begin at 6-7pm and return to dock no later than 11pm.
Are You Looking to Find Someone to Share these Experiences With?
If so, why not get in touch with Maclynn (formerly Vida) today?
We work with some of the world's most exceptional singletons, all ready and waiting to settle down with that special someone. If you'd like to know more about how our experienced matchmakers can help you find your perfect partner, please feel free to get in touch with us today.
For more of the best romantic places in London to take a date, please explore our more of our date ideas in London, or our nighttime London guide!
Interested in finding out how we work?