The Electric Cinema
Date nights can be the perfect escape from the stressors of everyday life, allowing for a moment to unwind and connect with your partner. What better way to spend a date night than by catching a great movie at the Electric Cinema? Whether you're looking for a romantic flick or a thrilling action movie, this cinema offers a cozy atmosphere and a unique movie-going experience. With plush leather chairs, a bar, and timeless decor, you're sure to feel pampered and relaxed. The cinema also serves wine, beer, and other drinks, as well as light bites to enjoy while you watch the film.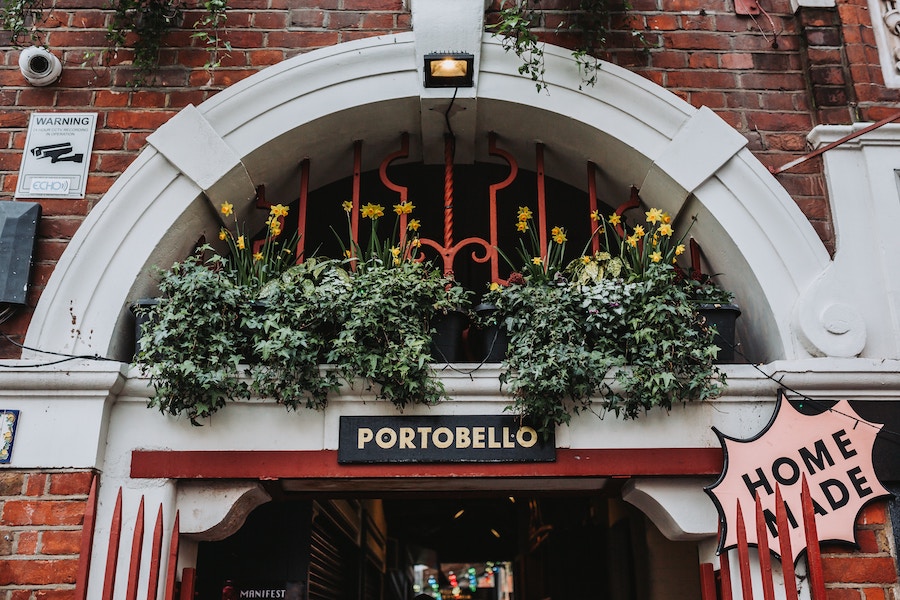 Portobello Road Market
What could be more romantic than taking a leisurely stroll through the famed Portobello Road Market ? Whether you're a local or not, this bustling market offers a colourful, sensory experience that's sure to enchant you and your date. Meander through the winding streets, sampling delicious street food, admiring antiques and vintage treasures, and taking in the vibrant atmosphere. With each turn, you never know what hidden gems you might discover. Taking in the sights and sounds can be a fun and romantic way to spend an afternoon.
The Churchill Arms
The Churchill Arms is a historic pub that is famous for its beautiful floral displays. During the summer months, the pub is covered in colourful flowers and plants, and it makes for a stunning and romantic backdrop for a date. It's equally stunning in December when it's decorated for the holidays. It's a great option for a low key, relaxed date night. The pub also serves a range of delicious drinks and food, from Thai curries to traditional English pies.
Ottolenghi
Ottolenghi is a chic and stylish restaurant that offers a unique and flavourful dining experience. The restaurant's menu is inspired by Mediterranean and Middle Eastern flavours and offers a range of sharing plates that are perfect for a romantic dinner. The restaurant also has an extensive wine list to complement your meal, and their desserts are a must-try.
Parks or gardens
Looking for a unique and romantic way to spice up your next date? Why not enjoy an al fresco lunch in one of the town's beautiful parks or gardens? With plenty of green spaces to choose from, you can pack a picnic basket full of delicious treats and find a spot in the sun to sit back and enjoy. Not only will you get to enjoy some fresh air and beautiful scenery, but you'll also have the chance to relax and connect with your date in a more intimate setting.
Gold
Gold is a charming restaurant and bar located in the heart of Notting Hill on Portobello Road, perfect for an intimate date night. The restaurant boasts an extensive menu filled with mouth-watering dishes and a bar that serves up inventive cocktails and a variety of drinks. The restaurant's elegant decor is both modern and sophisticated, providing the perfect ambiance for a relaxing evening out.
Notting Hill is one of the most romantic neighbourhoods in London, and there are plenty of date spots to choose from. Whether you're looking for a movie night at The Electric Cinema, a casual stroll through Portobello Road Market, or a romantic dinner at Ottolenghi, there is something for everyone in Notting Hill. So, why not plan your next romantic date in this charming and picturesque neighbourhood?
If you're interested in hearing more date spot suggestions, whether in London or further afield, follow us on Instagram.