We have had the pleasure of taking outdoor dating to the extreme, getting people to hop on planes and meet their potential partners somewhere in the middle
Whether you're the type of person who enjoys coffees and walks in parks and cobbled lanes or you are more of a mountain trekker and weekend explorer, we have outdoor date ideas that tick all the boxes.
1. Hike the Three Peaks
Location: England, Scotland and Wales
Starting with one of the more challenging outdoor date ideas, tackling the three peaks is arguably one of the most popular hikes when it comes to trekking around the UK. How long you take to complete the peaks is entirely up to you; some couples choose to spread it across a week, whereas others may tackle all three in as little as a few days (if you time it right!) Be sure to prepare properly, because while each peak can be completed in around 5 hours, you must pack water and food to ensure your hike is safe, comfortable and enjoyable.
Once you have completed the peaks, you can rest your legs at one of the few fantastic pubs nearby.
Finishing the Three Peaks is a truly rewarding experience and a challenging outdoor date idea for couples who are into their fitness or have a lust for adventure.
2. Go Pony Trekking or Horse Riding
Location: Derbyshire
Looking to mix a romantic date idea with something outdoors? Horse riding might be the perfect blend for you. Several locations across the UK offer this activity and it's a great way to explore the outdoors and test your animal handling skills. One of the best-reviewed horse riding tours is Derbyshire Pony Trekking, but we'd advise researching your local area to see if there is anything closer.
The staff are friendly and welcome all skill levels, from amateurs to those who have years of experience. You can expect to be taken out in a small group to allow for a more personal experience and more importantly, be able to relax and enjoy your time with your pony or horse. With many different routes to ride, you can return anytime throughout the year to enjoy this experience and increase your confidence on a horse.
3. Experience an Outdoor Theatre Under Moonlight
Location: Cornwall, Perthshire, London and across the UK
Outdoor theatres provide a memorable and utterly unique outdoor date idea. Even if you aren't a huge fan of theatre, this live experience can be enjoyed by both veteran theatre-goers as well as those who have never stepped foot inside a theatre. The UK has lots of beautiful and iconic outdoor theatre venues scattered around, including Pitlochry Festival Theatre in Perthshire, the Irish Theatre at The Actors' Church in London and the stunning Minack Theatre, Porthcurno in Cornwall.
Outdoor theatre offers a completely different setting and dynamic to traditional theatre and we'd argue it's more romantic – especially when performed under the moonlight. Most theatres offer drinks and snacks but many offer a BYOB and food option too.
4. Book a Trip to Explore a New City
Location: France, Spain, Italy, Portugal or anywhere else!
If you want to take your outdoor date idea to the extreme, why not explore a new country? With travel becoming much easier now, a spontaneous trip to France, Italy, Spain, or Portugal, shouldn't be out of the question.
Even if you aren't quite ready to hop on a plane or boat, the planning process itself is extremely fun and is named as one of our favourite at-home date ideas for times when you'd rather relax at home with your partner.
5. Dive into Deep Sea Diving in Croatia
Location: Dubrovnik, Croatia
For those who love exploring the wonders beneath the water, a trip to Croatia to explore the Adriatic Sea might be perfect for you. Croatia plays host to fantastic dive sites, with schools of fish and wrecks that are waiting to be explored.
The dive site is located in the southern part of the country, near Dubrovnik, and boasts exceptionally clear waters and active marine life. You will be in safe hands diving with PADI-qualified instructors with decades of experience and knowledge of the sites and fish under the waters of Dubrovnik. Whether this outdoor date idea is for you to improve your diving skills or simply experience the thrill of deep-sea diving, this is surely worth considering!
6. Delight in Giffords Hall Vineyard and Wine Tasting
Location: Giffords Hall, Suffolk
Wine tasting remains one of the most romantic and memorable outdoor date experiences. We would personally recommend a family-run vineyard Giffords Hall, located in the village of Hartest located in Suffolk. They specialise in the creation of award-winning rose, aromatic Bacchus and a wonderfully fruity Pinot Noir alongside other household favourites.
Giffords offers a selection of exceptional wines to taste and purchase, tours of the vineyards and unique experiences dotted throughout the year. This is a wonderful outdoor date idea for lovers of wine and those who enjoy exploring quaint vineyards and villages.
7. Mosey Down London's Waterways With Moo Canoes
Location: Limehouse, London
Looking for an outdoor date idea in the heart of London? Moo Canoes offer canoe, kayak and paddleboard hire, allowing you to meander down the Thames and explore London's waterways in a canoe. Kayaks and canoes come in different shapes and sizes, and there's plenty to go around. Once you've paid, a member of the Moo Canoe team will meet you and provide you with the required gear before you set off on your adventure. For a fun, simple and outdoor date idea, Moo Canoes ticks all the right boxes.
8. Hit the Hot Springs in Iceland
Location: Reykjavik, Iceland
Fancy a trip to one of the most beautifully scenic and jaw-dropping countries in the world? Iceland is famed for its diverse landscape and more specifically, its hot springs. There are several hot springs and pools to experience in Iceland, but our recommendation would be the Blue Lagoon. Arguably the most famous lagoon in Reykjavik, you are offered the chance to spend four hours in a truly breathtaking lagoon, surrounded by a mossy lava field. It's also open through summer and winter, so you can experience it all year round.
The lagoon is designed around their state of the art facilities, where you can enjoy silica face masks, champagne and food. If you opt for the Blue Lagoon Comfort Package, you also don't have to worry about getting to and back from the lagoon – great if you want to enjoy a few drinks!
9. Explore a Beautiful Botanic Garden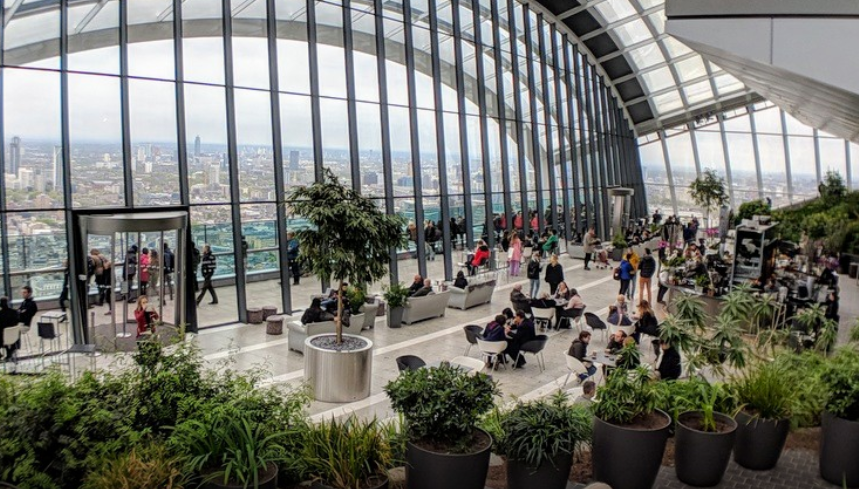 Location: Anywhere in the UK!
The UK is adorned with many iconic and beautiful botanical gardens waiting to be explored. Many of which offer fine dining within the garden for a quaint and relaxing outdoor experience. Which botanical garden you choose to explore depends on where you're based, but we've selected a few that are certainly worth the drive.
Cambridge University Botanic Garden, Cambridge – nestled in this iconic city is the heritage-listed, 40-acre garden which boasts nine National Plant Collections and is planted year-round. The garden holds a collection of over 8,000 plant species from all over the world to aid teaching and research.
Royal Botanic Gardens, Kew – spanning over 300 acres, Kew's botanical garden has been developed over the centuries by many revered visionary scientists, collectors and gardeners. It's difficult to pinpoint where to start exploring, as Kew Gardens boasts over 90 unique attractions, however, the Board Walk Borders, the Shirley Sherwood Gallery of Botanical Art and the Victorian Palm House are good places to start.
Ventnor Botanic Garden – this botanical garden will require you to take a flight or boat to the beautiful Isle of Wight – but we assure you it's worth it. Ventnor displays a wonderful variety of plants too tender for mainland Britain. The plants thrive in Ventor thanks to the shelter they receive from the chalk downs, allowing for a stunning aesthetic throughout the seasons. We'd advise organising a full weekend break to experience the Isle of Wight and all its natural wonders and beauty.
If any of the above are too far away, try researching your local or nearest botanical garden and enjoy exploring it with your partner.
10. Outdoor Yoga at Our Retreat
Location: Somerset
Our Retreat, located in tranquil Somerset, is one of the best-reviewed yoga retreats in the UK and offers a luxury yoga experience like no other. Hosted in a beautiful farmhouse surrounded by acres of luscious woodland, Our Retreat invites everyone. From novice to experienced, you are invited to enjoy a relaxed and pampered three-night yoga and meditation retreat to escape from their busy city lives. Our Retreat offers smoothies, protein shakes, home-cooked wholesome meals and plenty of time to unwind outside on the grounds or in front of the fire in the evening.
---
Looking for Someone to Share These Experiences With?
If you're looking for someone to share these incredible date ideas with, that's where we can help. Our team at Maclynn is dedicated to helping single men and women identify potential partners who share their core values and desire for lifelong relationships.
We're a team of highly experienced matchmakers in the UK who specialise in combining psychological principles with personalised consultations to understand the type of person you are and the type of person you're looking for.
If you'd like to learn more about our bespoke, private matchmaking service, why not give us a call? Even if it's just to get a better understanding of how we work and have helped thousands of single men and women find love across the UK and further abroad.
Interested in finding out how we work?