Heart Reef – Great Barrier Reef, Australia
Until recently, the only way to enjoy this small heart-shaped island was from above by chartering a small aircraft tour. But since 2020, it's now possible to hire a luxury pontoon from another small island accessed by helicopter. The three hour Heart Island excursion comes with glass bottom, on-board plunge pool, luxury snack and cocktails.

Galešnjak – Croatia
Croatia counts more than 1,200 Mediterranean islands but only one conjures romance: Galešnjak.  Also called Lovers' Island, the islnd is privately-owned and remains uninhabited, except for the colony of rabbits and pigeons. The heart-shaped island provides facilities for engagements and small wedding parties. A daily private and organised tour departs from Tkon.
Coeur de Voh – New Caledonia
Made famous by adorning the cover of Yann Arthus-Bertrand's best-selling book Earth From Above, the Heart of Voh is a natural clearing formed by mangrove vegetation in the shape of a heart, with a trail to a hilltop lookout. You can see the famous heart from the sky on board a microlight, 4×4 tour or simply hike there.
Lough Ouler – Ireland
If you're outdoorsy and up for an off-the-beaten-path hike, Tonelagee offers a challenging although rewarding nature walk. A steady ascent takes you through plains, rivers, fields and rolling hills. Ireland is always a spectacular place to explore and getting to the vantage point is worth it to get the best views of the heart-shaped lake.
St Paul's Bay – Greece
Nestled between the gorgeous blue Mediterranean and the picturesque greek village of Lindos, the heart-shaped body of water in the Bay of St Paul is actually a lagoon with a sandy beach you can enjoy for a nominal fee. If you prefer the full picture, there's an observation deck where you can stay as long as you like to take in the breathtaking views, the sea breeze, and decide where you might wander to get a cosy meal to wrap up your romantic day.
Llynnau Cwm Silyn – Wales
As if Snowdonia could be any more beautiful, between its mountains, valleys and forests, a heart-shaped lake awaits with a clearwater dip after a long hike. Dubbed The Heart of the Mountain, the lake is wonderful but the journey there might be even better.
Lake Calvaresc – Switzerland
This heart-shaped lake is the culmination of an 8-hour hike from the vollage of Rossa in Switzerland. It's not easy to get to but for the accomplished trekker, this can be par for the course and once you get there, the view is amazing, particularly in summer when all is green again and flowers have come out.
Baker Lake – Canada
Positioned on the border between Quebec and New Brunswick, this naturally-occurring almost perfectly heart-shaped lake is absolutely stunning in autumn when all the colours come in. Autumn is the perfect time of year for a romantic drive to enjoy the leaves and the crisp air, maybe find a quaint bed and breakfast for a romantic getaway.
Heart Lake – Canada
Clearly love is in the water in Canada as it boasts not one but two naturally heart-shaped lakes! Heart Lake is located in Ontario near the town of Ompah. Social media has made this lake so popular that locals are urging Instagrammers and other "influencers" to stop flocking to it in Autumn and give nature a rest from buzzing drone activity. But if you're wanting to visit and enjoy nature and just love knowing you've been to Heart Lake, residents are more than happy to see you!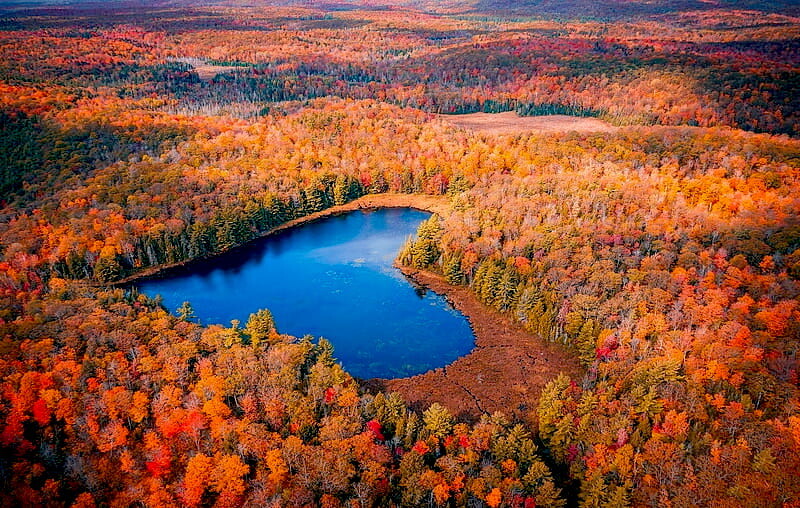 Maclynn is a boutique, multi-award-winning introductions agency with offices in New York, New Jersey, California and London. We're world-renowned for bringing together highly compatible singles within our vast network of attractive, intelligent professionals, and our matchmakers are relationship experts in their own right.