There are several factors that make up a healthy relationship, and knowing what they are can enhance the quality of your relationship. You may already be in a fantastic relationship, but there are always elements that can be improved or built upon. Alternatively, if you're struggling in your relationship and you're noticing signs that something is wrong or certain things are needed to restore it, we're here to help.
Maclynn is an elite matchmaking company that specialises in personalized and psychology-backed matchmaking and we've created a simple healthy relationship guide to ensure your relationship continues to flourish.
What is a Healthy Relationship?
What makes a healthy relationship healthy will change depending on what couples see as "healthy".
Traditional signs of what a healthy relationship might look like include:
Communication
All relationships require healthy communication. It is at the heart of all healthy relationships and is essential in order to openly talk about and discuss important and sometimes difficult topics. You should be able to talk to your partner about everything, from triumphs to the low parts of everyday living, you should feel comfortable being able to talk openly about issues that come up in everyday life.
Your partner should be able to listen without judgement, even if they may disagree with you. Communication is a two-way street, it's equally important to ensure your partner is able to voice their concerns also, which brings us onto our next sign.
Equality
Equality is essential in every relationship. As a couple, you work as a team and you must ensure you're fair to one and another. Relationships should be balanced, from responsibilities to finances to your emotional devotion to one and another and even your relationship expectations.
It's okay for momentary lapses regarding equality in your relationship. You may encounter financial struggles, mental health problems, illness or something else that may put a strain on your relationship. It's important that your partner feels and understands the difficulty of your situation and is able to empathise and offer support during this time.
Sex, Physical Intimacy & Boundaries
Intimacy, whether it's sex or simply physical affection is essential in every relationship. Some people believe that sex is crucial in a relationship, but your relationship can still be very healthy without it, as long as you have an open communication channel to ensure you're both on the same page.
If you both enjoy sex, it's important you feel comfortable discussing and understanding the following:
You're able to accept rejection
You're comfortable discussing sexual needs and desires
If your partner struggles with sexual intimacy, it's also important that you respect their boundaries. Essentially, having a completely open communication channel when discussing sex in the relationship is crucial so neither of you feels uncomfortable, rejected or misunderstood.
Independence and enjoying your own space
Another important factor to address in any relationship is being able to enjoy time apart from each other. Being with each other 24/7 and having little outside communication with friends, family or even work colleagues can make your relationship seem claustrophobic and linear. Spending time apart, whether it's a holiday with friends, a catchup coffee every week with a friend or setting aside a few hours or even a day to enjoy your own hobbies away from your partner refreshes you socially and creates a healthy distance from your partner.
Of course, every relationship is different and the amount of time you spend together depends on your individual circumstances (if you live together, for example, you will naturally spend more time together than a couple that doesn't). Just remember you do not need to spend every waking moment together.
Trust
Alongside honesty and integrity comes trust. Arguably the foundation of all healthy relationships, forming trust with one and another allows for transparency, respect and happiness. Things like not keeping secrets from each other, being honest about your feelings and trusting that your partner won't cheat on you or be unfaithful create a solid, mutually trusting foundation.
Trust should also alleviate any major worries concerning love, approval and self-esteem in the relationship. You shouldn't have to constantly worry that you don't have their support or belief, it should always be there, both physically and emotionally.
Conflict
No relationship is ever plain sailing! Healthy conflict is important in any relationship, and it's important to accept and understand that disagreements and frustrations are normal and can happen from time to time. Conflict does not mean that your relationship is struggling or becoming toxic. Instead, use conflict to alleviate worries, concerns, frustrations and conflict of interests through open discussion so you feel heard.
The worst thing to do would be to ignore the reason for the conflict and hide from problems – they won't go away if they are not addressed.
Playfulness and fun
Life can be tough at times, and if you don't laugh, you'll cry. Humour in a relationship is important, both of you need to make time for fun and spontaneity. It keeps the relationship alive and kicking and can also alleviate worry and stress. Being able to dabble in playfulness and share a joke, even during sad or distressful times can help relieve tension and even strengthen the relationship.
---
A Healthy Vs Unhealthy Relationship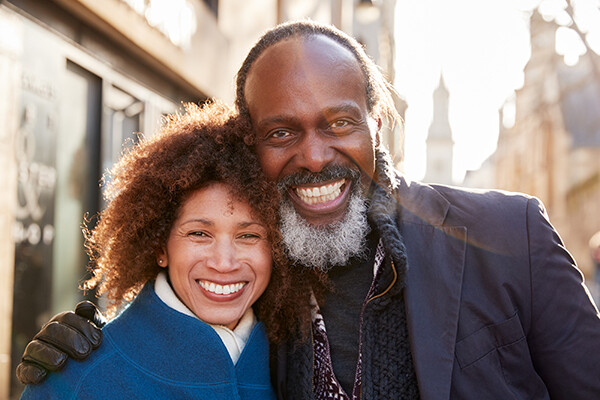 There are a number of factors that constitute an unhealthy relationship. Some red flags are more obvious than others, and they're often easier to address. Take a look at some of the – to contrast between a healthy and unhealthy relationship.
1| Trying to change each other
There's a difference between trying to change the behaviour or certain behavioural traits of your partner and changing who they are. The latter will never work and if this is something you're trying to achieve, or believe you are being asked to do, then this requires a serious conversation.
You may realise that despite your efforts, your partner won't change certain aspects of their life or habits, then the relationship may not have long-term potential.
2| Respecting boundaries
Respecting boundaries is crucial in all relationships, and if boundaries aren't set, it can lead to an unhealthy relationship. Below are some of the boundaries that you need to be aware of to ensure you don't make your partner feel uncomfortable:
Personal boundaries
Sexual boundaries
Emotional boundaries
Physical boundaries
3| Afraid of expressing how you really feel
This goes back to healthy communication between you and your partner. If you're unable to effectively communicate with your partner, whether it's about happy news or bad news, that's unhealthy. You should feel safe to disagree and be able to approach conflict in a healthy and constructive format.
4| Conflicts never resolve themselves and discussion do not go anywhere
If you're having the same arguments or disagreements over and over with no resolution, you may want to consider the legitimacy and longevity of your relationship. Conflict is only helpful when both parties come to a solution or a compromise, if it doesn't, that's a warning sign.
5| Understanding What Constitutes an Unhealthy and Healthy Relationship
Relationships are ultimately built on a variety of core pillars that allow you to trust and respect your partner. Sure, your shared interest in Chinese food and tennis might have sparked a memorable and engaging introduction, but it takes more than sharing similar hobbies to sustain a healthy relationship.
Relationships require constant work and development to ensure both parties are happier and growing together for a brighter future. Your partner should be your teammate, someone you can turn to and enjoy spending time with, but also feel comfortable engaging in conflict with and discussing difficult topics to resolve any worries or concerns.
---
What does your relationship look like? Are you in a healthy relationship or an unhealthy relationship? If you are concerned about your relationship, work on building trust and communication channels to strengthen it.
If you need date coaching, get in touch with our matchmaking and dating professionals at Maclynn (formerly Vida).